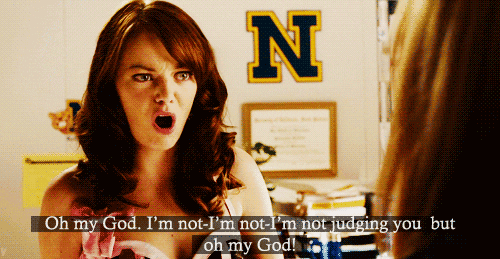 Every day, I watch both the local and the national news on all three major Canadian networks. (Yes, I am, and always have been, a news junkie). Social distancing, self-isolation and working from home have greatly affected broadcast news lately, same as for the rest of us. And this development has given me my
first
new pastime.
These days, the vast majority of "talking heads" -- politicians, pundits, experts, even journalists themselves -- now appear via video link from their places of residence. And I find it
fascinating!
Not because of what they're
saying
necessarily, but because of what I can see
behind
them.
Yes, I have become a
shameless
Looky-Loo and a
major
Judgy McJudgerson as I
harangue
the talking heads from the comfort of my couch --
Oooo, you clearly used a professional decorator!
Your taste is non-existent!
Why is there nothing at all on your walls -- does nobody live there?
OMG, who chose that hideous painting? Or that beautiful painting? I want it!
My gawd, get some better lighting on your face! And brush your hair!
For Christ's sake, put your laptop camera at eye level! Do not look downwards at it -- it makes you look like you've got three chins!

You may well ask where I have acquired my impeccable interior decorating and personal style expertise all of a sudden. Which brings me to my second new pastime --
Yes, I'm watching endless re-runs of
Colin & Justin's Home Heist
, which is a Canadian home makeover show from about 10-12 years ago. I am totally
smitten
with its two outrageously campy, gay interior designers, Colin McAllister and Justin Ryan. Partners both in life and business, they are Scottish in origin and have the brogue to prove it. Another charming aspect of the show!
Every episode, they
wail, shriek and deride
some hapless Canadian couple's bad home decorating taste and then design a much improved look for the residence. Their large home reno crew usually gets the whole job done in less than a week. Notable personalities on the crew include fashion-conscious Cheryl, the
long-suffering
project manager in charge of purchasing, and Graeme, the cute but whiny carpenter who usually screws up something
every single episode
and incurs the (temporary)
wrath
of The Boys.
Anyway, the show is great fun (and educational, too). A number of episodes are available on YouTube by searching the series' title, if you're interested in checking it out further.
What
, you've got something
better
to do these days?
Clearly,
neither do I
, LOL.